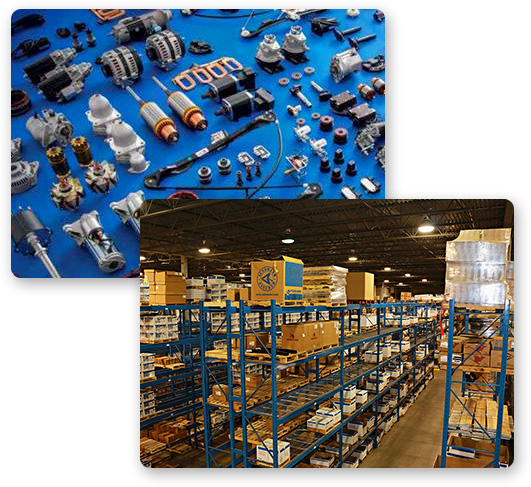 О нас?
Ведущий производитель автозапчастей для послепродажного обслуживания
Innovation and creativity are the forces that drive WAI's success. Since its founding, WAI has worked relentlessly to meet the ever-changing needs of its customers in the automotive, heavy duty, agricultural & industrial, and power sports aftermarket. This includes an unwavering commitment to be "first-to-market" with the latest model products available. As a leading manufacturer, sourcing, and distribution/logistics company, WAI offers its customers ready access to an extensive range of products including:
абсолютно новые стартеры, генераторы переменного тока и их комплектующие;
Voltage regulators, rectifiers, solenoids, starter drives & test equipment.
абсолютно новые распределители системы зажигания;
модули и катушки системы зажигания;
датчики давления воздуха во впускном коллекторе (MAP) и датчики массового расхода воздуха (MAF);
абсолютно новые электродвигатели стеклоочистителя;
оборудование для управления работой двигателя.
ДОМИНИРУЮЩЕЕ ПОЛОЖЕНИЕ НА МЕЖДУНАРОДНОМ РЫНКЕ
Поскольку компания WAI поставляет автозапчасти клиентам более чем в 105 странах мира, requires world-class parts manufacturing facilities and a robust distribution network. WAI operates in 14 countries Все подразделения и всех дистрибьюторов компании объединяет одна общая This network operates with exceptional precision under one united goal – to provide customers with the products they need, when they need them.
2015
Открытие новых складских помещений в Польше и Великобритании.
2011-2014
Приобретение компании Sovereign в Великобритании. Приобретение компании RCP в Канаде. Открытие дистрибьюторского центра в Монреале.
2010
Открытие дистрибьюторского центра в Лос-Анжелесе общей площадью 6 000 квадратных метров. Учреждение компании WAI Brazil, расширение дистрибьюторской сети в Латинской Америке. Благодаря приобретению Lester Catalog Company значительно увеличился ассортимент продукции, предлагаемой компанией в каталогах и веб-сервисах. Приобретение подразделения компании Dorman Products по производству распределителей системы зажигания, расширение ассортимента продукции и клиентской сети
2009
Расширение ассортимента распределителей системы зажигания и оборудования для управления двигателем для послепродажного обслуживания автомобилей
2007
Открытие дистрибьюторского центра в городе Мемфис общей площадью 25 000 квадратных метров
Слияние компании с Auto Electric Suppliers (AES) и Marine Electric Suppliers (MES) способствовало значительному расширению ассортимента генераторов переменного тока и стартеров, в том числе для судового, автомотоспортивного и использующегося на открытом воздухе силового оборудования
2006
Opened WAI–Europe in Amsterdam, further expanding distribution in Europe
2005
Приобретение компании SWS, дальнейшее расширение дистрибьюторской сети в Канаде
2004
Приобретение компании Cyma, открытие дистрибьюторских центров в Канаде
Приобретение компании Transpo Electronics в городах Орландо (США, штат Флорида), Ганновер (Германия) и Шанхай (Китай), значительное увеличение ассортимента производимых компанией электронных товаров, а также расширение дистрибьюторской сети
1999
Приобретение компании Semicon в городе Сан-Хосе в Коста-Рике, расширение ассортимента электронной продукции за счет вывода на рынок регуляторов напряжения
1998
Приобретение компании Renard Manufacturing в городе Майами, штат Флорида, начало производства выпрямителей тока / электроники
Расширение дистрибьюторской сети, а также ассортимента продукции и услуг, предлагаемых на рынке автоэлектроники
1980
Открытие дистрибьюторских центров
1978
Компания WAI была основана Ричардом Уэзериллом (Richard Wetherill), и первоначально в ней работало 34 сотрудника