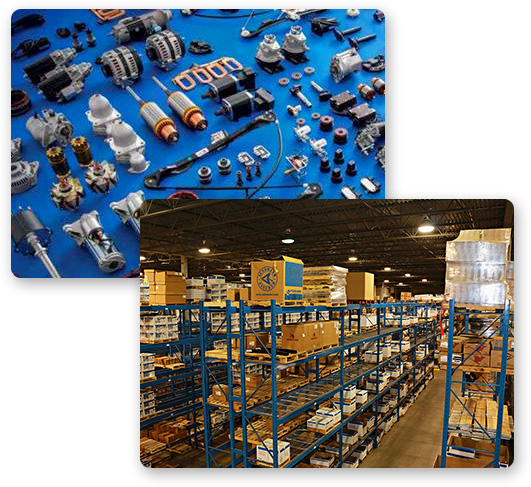 Chi siamo?
Un componentista leader dell'Aftermarket
Innovation and creativity are the forces that drive WAI's success. Since its founding, WAI has worked relentlessly to meet the ever-changing needs of its customers in the automotive, heavy duty, agricultural & industrial, and power sports aftermarket. This includes an unwavering commitment to be "first-to-market" with the latest model products available. As a leading manufacturer, sourcing, and distribution/logistics company, WAI offers its customers ready access to an extensive range of products including:
Alternatori, motorini di avviamento e relativi componenti nuovi al 100%
Voltage regulators, rectifiers, solenoids, starter drives & test equipment.
Distributori di accensione nuovi al 100%.
Moduli e bobine di accensione.
Sensori di pressione dell'aria collettore (MAP) e di portata massica dell'aria (MAF).
Motori elettrici per tergicristalli nuovi al 100%.
Componenti di gestione del motore.
UNA PRESENZA GLOBALE DOMINANTE
Per soddisfare il fabbisogno di componenti degli oltre 105 paesi nei quali WAI è presente, requires world-class parts manufacturing facilities and a robust distribution network. WAI operates in 14 countries tra cui Stati Uniti, Canada, Brasile, Europa e Cina. This network operates with exceptional precision under one united goal – to provide customers with the products they need, when they need them.
2015
Apertura di nuovi magazzini in Polonia e nel Regno Unito.
2011-2014
Acquisizione di Sovereign nel Regno Unito. Acquisizione di RCP in Canada. Apertura di centri di distribuzione a Montreal.
2010
Apertura di un centro di distribuzione di circa 6000 m2 a Los Angeles. Creazione di WAI Brazil per sviluppare la distribuzione in America Latina. Acquisizione di Lester Catalog Company per arricchire il catalogo WAI e l'offerta di servizi Web. Acquisizione della Divisione distributori di accensione di Dorman Products per ampliare la gamma di prodotti e i clienti serviti
2009
Espansione dell'offerta di distributori di accensione e prodotti per la gestione del motore destinati all'aftermarket automobilistico
2007
Apertura di un centro di distribuzione di circa 25.000 m2 a Memphis
Fusione con Auto Electric Suppliers (AES) e Marine Electric Suppliers (MES), con conseguente ampliamento dell'offerta di alternatori e motorini di avviamento completi, comprese apparecchiature elettriche per applicazioni marine, sport motoristici e per esterni
2006
Opened WAI–Europe in Amsterdam, further expanding distribution in Europe
2005
Acquisizione di SWS per sviluppare ulteriormente la distribuzione in Canada
2004
Acquisizione di Cyma per la distribuzione in Canada
Acquisizione di Transpo Electronics a Orlando (Florida), Hannover (Germania) e Shanghai (Cina), con notevole espansione della produzione elettronica e della distribuzione globale
1999
Acquisizione di Semicon a San José (Costa Rica) ed ampliamento della produzione elettronica con l'introduzione dei regolatori di tensione
1998
Acquisizione di Renard Manufacturing a Miami (Florida) ed avvio della produzione di raddrizzatori/componenti elettronici
Espansione della rete distributiva, della linea di prodotti e servizi offerti al settore del ricondizionamento elettrico
1980
Creazione di centri di distribuzione
1978
Società fondata da Richard Wetherill con 34 dipendenti