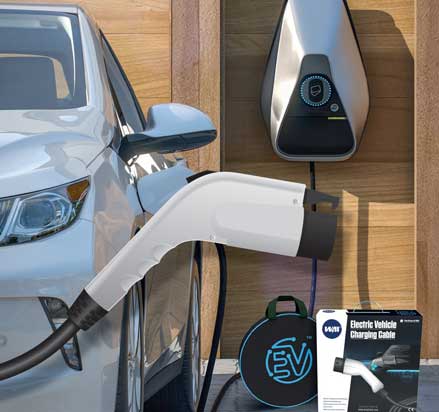 EV Charge Cables - Recharging is no stretch
WAI carries a comprehensive line of EV charge cables and portable re-charge stations to keep you up and running.

Our high quality cables connect with all charge plug types and carry maximum power to get your car charged quickly.

With convenient 5 meter and 10 meter lengths available, you can reach any charger effortlessly.

Convenient carry bag means you can have them with your vehicle at all times and reach chargers in limited accessibility situations.
---

PPS-400 Wilderness ready
Head out to the wilderness and keep critical items powered up.
AC power will power 120v items with ease.

2022 Great outdoors tests had Starlink RV wireless system running for 10 hours continuously. Product testers also charged an Apple Macintosh laptop for a hour during the test.

DC power will charge Phones, tablets, watches and other USB cabled items for 20 - 24 hours.

Easily control power outputs with AC and DC buttons and keep an eye on capacity with the battery capacity monitor screen.

LED light is awesome for night camp site setup.