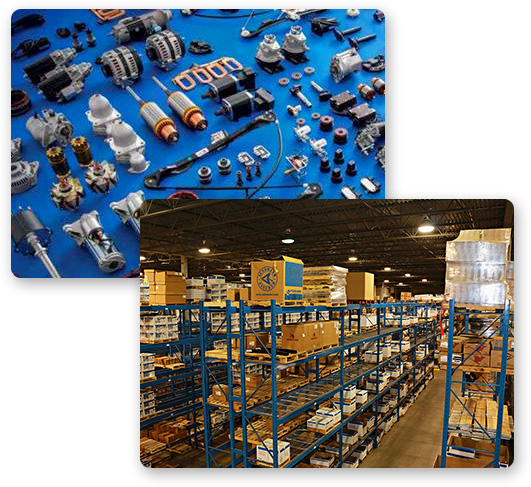 Who We Are
A Leading Parts Manufacturer for the After market
Innovation and creativity are the forces that drive WAI's success. Since its founding, WAI has worked relentlessly to meet the ever-changing needs of its customers in the automotive, heavy duty, agricultural & industrial, and power sports aftermarket. This includes an unwavering commitment to be "first-to-market" with the latest model products available. As a leading manufacturer, sourcing, and distribution/logistics company, WAI offers its customers ready access to an extensive range of products including:
100% new alternators, starters and their components
Voltage regulators, rectifiers, solenoids, starter drives & test equipment.
100% new ignition distributors.
Ignition modules and coils.
Manifold Air Pressure (MAP) and Mass Air Flow (MAF) sensors.
100% new wiper motors.
Engine management components.
A DOMINANT GLOBAL PRESENCE
Consistently meeting the parts needs of the, more than 105 countries to which WAI sells, requires world-class parts manufacturing facilities and a robust distribution network. WAI operates in 14 countries including the United States, Canada, Brazil, Europe and China. This network operates with exceptional precision under one united goal – to provide customers with the products they need, when they need them.
2015
Opened new warehouses in Poland and UK.
2011-2014
Acquired Sovereign in United Kingdom Acquired RCP in Canada Opened distributions center in Montreal.
2010
Opened a 64k sq. ft. distribution center in Los Angeles Established WAI Brazil, expanding Latin America distribution Acquired Lester Catalog Company increasing the WAI catalog and web service offerings Acquired Dorman Products ignition distributor division, expanding products and customers served
2009
Expanded product line offering ignition distributors and engine management products to the automotive aftermarket
2007
Opened a 270k sq. ft. distribution center in Memphis
Merged with Auto Electric Suppliers (AES) and Marine Electric Suppliers (MES), greatly increasing complete alternator and starter product offerings, including marine, powersports and outdoor power equipment
2006
Opened WAI–Europe in Amsterdam, further expanding distribution in Europe
2005
Acquired SWS, further expanding Canadian distribution
2004
Acquired Cyma, establishing distribution in Canada
Acquired Transpo Electronics in Orlando, Florida; Hannover, Germany and Shanghai, China, greatly expanding electronics manufacturing and global distribution
1999
Acquired Semicon in San Jose, Costa Rica, expanding electronics manufacturing to include voltage regulators
1998
Acquired Renard Manufacturing in Miami, Florida, establishing rectifier / electronics manufacturing
Expanded distribution network, product line and services offered to the auto electrical rebuilding marketplace
1980
Established distribution centers
1978
Company founded by Richard Wetherill with 34 employees